Can you get a home after bankruptcy in Delaware?
Can You Get a Home After Bankruptcy in Delaware?
Yes, you can get into a home again after a bankruptcy in Delaware and every other state, but be prepared for higher interest rates.  A bankruptcy will stay on your credit report for seven to ten years, but it stops affecting your credit significantly after two years if you report has been updated correctly.  If you want to apply for a mortgage loan after a bankruptcy filing call 302-703-0727 or APPLY ONLINE
Be sure to check your credit report annually, and make sure that all accounts that were part of your bankruptcy were discharged.  Lawyers get paid to file the bankruptcy and have no interest in making sure that your credit report is accurate after the bankruptcy.
What Types of Personal Bankruptcies are There?
There are two types of bankruptcy for personal bankruptcy: Chapter 7 and Chapter 13.  A Chapter 7 Bankruptcy is the worse of the two in the eyes of any creditor because a Ch.7 wipes out all your debts and your former creditors get nothing.  So you get to start over with a clean slate.  A Chapter 13 bankruptcy is not seen nearly as bad as a Chapter 7 because instead of wiping out your debts you enter into a payment plan with all your creditors.
The guidelines for getting a mortgage after a bankruptcy are pretty much the same regardless of which type of loan program you are applying for.  The guidelines are different for a chapter 7 versus a chapter 13.  Here are the guidelines for each:
How to Get a FHA Mortgage After a Chapter 13 Bankruptcy
Chapter 13 Bankruptcy: If you are currently still in the Chapter 13 and are actively paying on it, you must have been in it for at least one year and have been current on all your payments.  You will also need permission from the trustee of the bankruptcy.  You must also have re-established your credit (minimum 620 FICO score) and have no derogatory information since you filed Chapter 13.
If you have been discharged from the Chapter 13 then there is no waiting period for applying for a mortgage but you will have to have re-established your credit (minimum 580 credit score) and you must have had no derogatory information on your credit since the Chapter 13 discharge or in the last two years if discharge is more than 2 years ago.
How to Get a FHA Mortgage After a Chapter 7 Bankruptcy
Chapter 7 Bankruptcy:  You must be discharged from the Chapter 7 for at least 2 years.  You must have re-established your credit (620 minimum credit score) and have no derogatory information on your credit file in the last two years.  You must not only have a 580 credit score but you must have active tradelines (credit card, car loan, personal loan, etc.) on your report since the bankruptcy that are in good standing.  You must also have a very good explanation for why you filed the bankruptcy and why it will never happen again.
How to Get a Mortgage 1 Day After Bankruptcy with PRMI Fresh Start Program
You can get a mortgage one day out of Chapter 13 Bankruptcy, Chapter 7 Bankruptcy, Foreclosure, Short Sale, or Deed in Lieu with the PRMI Fresh Start Loan Program
The Guidelines to Qualify for Fresh Start Mortgage Loan are as follows:
Minimum Credit Score is 580
Must Have Minimum 2 Tradelines
Loan Amounts from $75,000 to $1 Million
Maximum DTI of 50% (Up to 55% with Compensating Factors)
How Do You Re-Establish Credit After a Bankruptcy?
Most people have trouble re-establishing credit after the bankruptcy, a good way to re-establish your credit is to get a secured credit card.  There are some cards that charge high fees every month for the card.  The best one that I have found that will approve almost anyone for the card is a Secured VISA Card, click below to apply.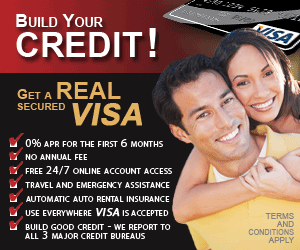 If you would like to apply for a Delaware Home Loan after a bankruptcy filing or discharge, you can APPLY ONLINE HERE, you can call John Thomas at 302-703-0727.
John R. Thomas – NMLS 38783
Certified Mortgage Planner – Primary Residential Mortgage, Inc.
302-703-0727 DE Office / 610-906-3109 PA Office / 410-412-3319 MD Office
248 E Chestnut Hill Rd, Newark, DE 19713