Delaware USDA Rural Housing Loan Guidelines
Delaware USDA Rural Housing Loans have two restrictions; income and geographical.  The geographical restrictions are based on the census for each area of a particular county.  Below is a diagram showing the eligible areas of New Castle County.  The areas in orange are NOT Eligible
Kent County Eligible Areas are shown below.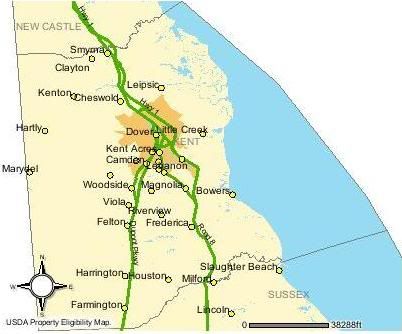 Sussex County Eligible areas are shown below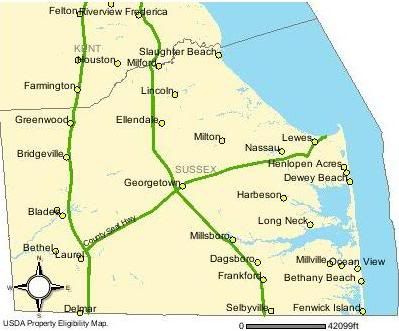 You can determine if a property in Delaware is eligible for financing through the USDA Rural Housing Loan program by entering the property address at the following website http://eligibility.sc.egov.usda.gov
The Eligible areas for USDA Rural Housing Loans was suppose to change on January 15, 2014 but the changed was delayed indefinitely until Congress passes legislation updating the Census data used for calculating the eligible areas from 2000 Census to the 2010 Census.  When the 2010 Census Data is used the city of Middletown, Delaware and the city of Smyrna, Delaware will no longer be eligible for USDA financing but until further notice both cities are still eligible for 2014.
The income limits for Delaware USDA Rural Housing loans are based on the number of people in the house and the county that the property is located.
New Castle County Maximum Income Limits for 2015
1 -4 Person            5-8 Person
$0 – $93,450          $0 – $123,354
Kent County & Sussex County Maximum Income Limits for 2015
1 – 4 Person                   5 – 8 Person
$0 – $78,200                  $0 – $103,224
Call John Thomas at 302-703-0727 to apply for a Delaware USDA Rural Housing Loan or send an e-mail to jthomas@primeres.com or APPLY ONLINE NOW!!
Primary Residential Mortgage, Inc.
248 E Chestnut Hill Rd, Newark, DE 19713
GET YOUR EMAIL UPDATES
We send out our lovely email newsletter with useful tips and techniques, recent articles and upcoming events. Thousands of readers have signed up already. Get a free WordPress eBook now.