Delaware USDA Rural Housing Loans
100% Financing – No Down Payment Loans!
Delaware USDA Guaranteed Rural Development Home Mortgage Loan is a flexible no down payment government insured mortgage loan program that is growing in popularity for rural areas of Delaware. The USDA Loan is designed to promote home ownership for borrowers with low to moderate incomes and who have limited savings for a down payment. Call 302-703-0727 to Apply for a Delaware USDA Rural Housing Loans or APPLY ONLINE
Delaware USDA Rural Housing loans will allow the mortgage lender to lend up to the home's appraised value and even allow the home buyer to include closing costs in the actual loan if the home appraises for more than the purchase price.  A common misconception about the USDA home loan program is that it's for farmers, but this mortgage loan is for those who want to purchase a primary residence outside the urban areas.  In Delaware you will find that many suburban areas qualify for this program as well such as Middletown and Smyrna.
Benefits of USDA Home Loan 100% Financing:
100% Financing
Do NOT have to be a First Time Home Buyer
No Down Payment
30 year low fixed rate loans
No Prepayment Penalty
Great Low FIXED Interest Rates
Loan Amounts up to $417,000
Possible to Roll Closing Costs into Loan if Appraises Higher
No Cash Reserves Required
UNLIMITED Seller Contribution toward Closing Costs
100% Gifted Closing Costs allowed
Primary Residents only (no rentals/investment properties)
Only Need a 620 Credit Score to Apply
Delaware USDA Rural Housing Loans Guidelines
Delaware USDA Rural Housing Loans have two restrictions; income and geographical.  The geographical restrictions are based on the U.S. census population data for each area of a particular county.  Below is a diagram showing the eligible areas of New Castle County.  The areas in orange are NOT Eligible
Kent County Eligible Areas are shown below.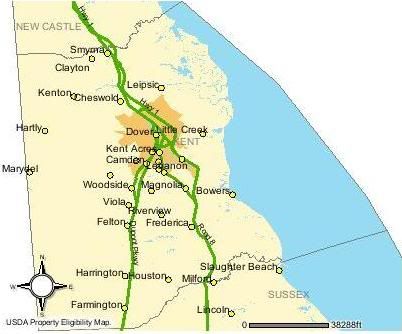 Sussex County Eligible areas are shown below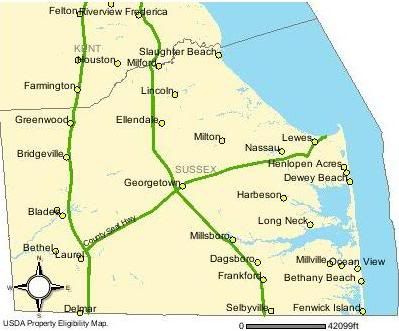 You can determine if a property in Delaware is eligible for financing through the USDA Rural Housing Loan program by entering the property address at the following website http://eligibility.sc.egov.usda.gov
The Eligible areas for USDA Rural Housing Loans was suppose to change on January 15, 2014 but the changed was delayed indefinitely until Congress passes legislation updating the Census data used for calculating the eligible areas from 2000 Census to the 2010 Census.  When the 2010 Census Data is used the city of Middletown, Delaware and the city of Smyrna, Delaware will no longer be eligible for USDA financing but until further notice both cities are still eligible for 2014.
Delaware USDA Rural Housing Income Guidelines:
The income limits for Delaware USDA Rural Housing loans are based on the number of people in the house and the county that the property is located.
New Castle County Maximum Income Limits for 2016
1 -4 Person            5-8 Person
$0 – $93,750          $0 – $123,750
Kent County & Sussex County Maximum Income Limits for 2016
1 – 4 Person                   5 – 8 Person
$0 – $79,200                  $0 – $104,450
Call John Thomas at 302-703-0727 to apply for a Delaware USDA Rural Housing Loan or send an e-mail to jthomas@primeres.com or APPLY ONLINE NOW!!
Primary Residential Mortgage, Inc.
248 E Chestnut Hill Rd, Newark, DE 19713
#DelawareUSDARuralHousingLoans
#USDALoans
#DelawareUSDALoans
#USDAHomeLoans